College admissions has become more competitive than ever. Applications are up, and acceptance rates are down. What is the data telling us, and what can students do to make themselves stand out and get into great schools? Keep reading to find out!
College Application Numbers Are Up
Let's start with a quick trivia question: How many applications did UCLA receive for fall 2022? The answer is…. 149,779 applications! UCLA received more applications than any other college, making it the most sought-after university in the country.
Now, UCLA is an extreme case, but it's in line with the competitive college admissions trends we're seeing across schools. Most top ranked colleges have hit record-high application numbers over the last two admission cycles. Just look at the increases among the Ivy League. Since 2020, Harvard has had an increase of more than 20,000 applications!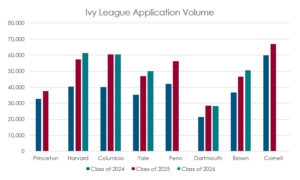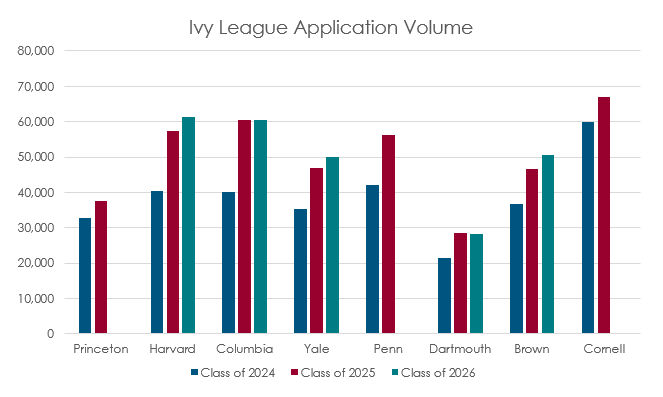 And the trend extends beyond Ivy League and private schools. Plenty of public schools announced record-high application volumes, too, including:
University of Virginia
University of Georgia
Florida State University
University of Connecticut
Virginia Tech
University of Washington
Cal Poly Pomona
University of Illinois at Urbana-Champaign
University of Michigan
College Acceptance Rates Are Down
Those record-high application volumes translate into record-low acceptance rates. Of the top 20 universities last year according to U.S. News and World Report, 16 made their admissions statistics publicly available. Of those, 15 schools reached a record-low admission rate in 2021. The only school that did not is Rice University.
But is this a short-term fluke? Let's dig a bit deeper into the data for one school: NYU. Below you can see both application volume and acceptance rate over the last several years. While there was a sizable jump in 2020, likely due to the pandemic, application volume had already been trending steadily upward for years. It wasn't long ago that NYU's admission rate was around 37%. This year, it hit 12%, and has been trending downward over the last eight years.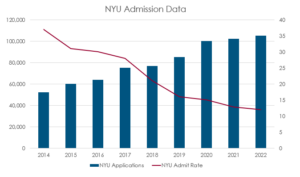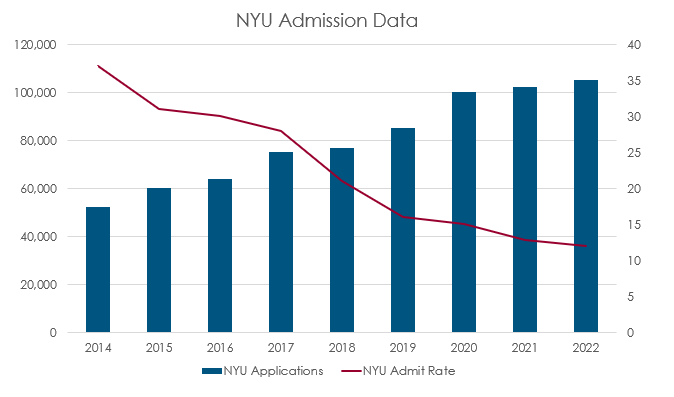 Uncertainty Increases Competition
This increased competition is the product of a self-perpetuating cycle. When competition increases, it creates fear and uncertainty, so students submit more applications. This makes the application rate rise, which then causes the admission rate to drop. This then increases competition, and the cycle continues.
This cycle is not only true of students — colleges face a lot of uncertainty, too. With students applying to more schools than ever before, colleges are having trouble predicting yield, which is the percent of admitted students who ultimately enroll. This has led to an increased reliance on waitlists and a very unpredictable and competitive college admissions landscape.
What Can Students Do to Navigate Competitive College Admissions?
Start with the numbers
Competitive numbers will get you in the door to your dream schools. This includes GPA, course rigor, and test scores. Here are some specific examples:
2021 UCLA incoming freshmen averaged a 4.5 GPA.
AP and IB classes are now considered the gold standard.
Pay attention to qualitative factors
Strong numbers are only a start; they're not enough on their own to get you into your dream school. Last year, the Brown Dean of Admissions said that they could easily have admitted two or three classes with nearly indistinguishably amazing academic credentials. This means that qualitative factors count more now than ever before. This includes essays, teacher recommendations, college interviews, activities, and experiences. Here are a few things to consider:
Explore, develop, and pursue your passions.
Write an outstanding college essay. It can make the admissions officer want to advocate for you.
Receive highly personal teacher recommendations and/or a strong alumni interview to put you over the edge.
Include a variety of schools on your list
With increased competition, even if you do everything right, there is still uncertainty. Include a variety of schools on your list, including safety schools. Here's what the UCLA Director of Admissions had to say at the end of this year's application cycle: "We're seeing significant increases among our strongest students. The increasing number of applications has led to declining admit rates and increasing uncertainty around admission outcomes. I think this reiterates the value of having a strong list of colleges as a prospective student. Selectivity is not a proxy for quality. Exceptional colleges come in all shapes, sizes, and admit rates."
Focus on the things you can control
To a certain extent, it helps to take a Zen approach to college admissions. Focus on the things you CAN control rather than the things you can't. Take challenging classes, get top grades, earn a top test score, do well on AP or IB exams – these are all variables within your control. What's not in your control? That C you got freshman year. So stop worrying about and focus on what you can control NOW.
Your extracurricular activities, the quality of your essays, how prepared you are for interviews, and what kind of relationships you build with your teachers—those are all within your control. What's not in your control? If someone else wins student body president or if someone else got the internship you wanted.
Your college search—where you choose to apply—is in your control. Go for the gold and stack the odds in your favor with plenty of safety schools.
Interested in learning more? Check out our webinar on admissions data and what students can do to set themselves up for success.
https://www.c2educate.com/wp-content/uploads/college-acceptance-letter.jpg
836
1254
jen.vokac
https://www.c2educate.com/wp-content/uploads/c2_logo-1.png
jen.vokac
2022-07-25 11:27:01
2023-03-08 14:37:13
How To Navigate Competitive College Admissions