Many schools temporarily changed their admissions policies to test-optional during the pandemic. It was difficult to administer tests safely, and many test sites closed during 2020. Since then, some schools have returned to requiring test scores, like MIT. Other schools have gone the opposite way and permanently adopted test-optional policies.
But what does test-optional really mean? And should students still submit test scores to these schools?
Test-Optional vs. Test-Blind vs. Test-Flexible
Although these terms seem similar, they each represent a different policy schools have adopted. What's the difference?
Test-optional schools
Test-optional means a school does not require ACT or SAT test scores for admission. However, submitted scores will still be considered in the admissions process. In other words, if you send scores, colleges will look at them.
Test-blind schools
Test-blind means that test scores will not be reviewed or considered at all in the admissions process, even if ACT or SAT scores are submitted. Whether you send scores or not, admissions officers won't look at them.
Test-flexible schools
Test-flexible schools allow applicants to choose what test scores they would like to submit. Students pleased with their SAT or ACT scores can submit these, but tests like an International Baccalaureate exam score or an Advanced Placement test score can also be submitted and considered.
What Schools Are Test-Optional?
For the seniors applying for fall 2022 admission, 1,830+ schools did not require SAT or ACT scores for admission. 1,400+ schools also extended this policy for juniors. In general, many liberal arts colleges have continued with test-optional policies while certain engineering schools and some public schools are returning to requiring scores for admission.
You can find the full list of test-optional schools here, but remember that it's important to do your research. After all, test-optional policies can vary widely from school to school, and at most test-optional schools, it's still a good idea to submit test scores.
Four Reasons to Submit Test Scores to Test-Optional Schools
1. ACT and SAT scores still affect acceptance rates
While ACT and SAT scores may not be required for admission at test-optional schools, data shows that students who submit scores are accepted at higher rates than those that do not submit scores.
Below is data from two schools: Notre Dame and the University of Virginia. For the class of 2026 Early Action at Notre Dame, 54% of applicants submitted scores while 46% did not. However, 70% of admitted students submitted scores, and 30% did not. This means that students that submitted test scores had an admission rate of 22.4%, and those that did not submit scores had a much lower admission rate of 11.3%. This is not limited to private universities: University of Virginia, a public school, has similar data. Students who submitted scores at UVA saw an admission rate of 23.8%, compared with just 11.6% for those who didn't submit scores.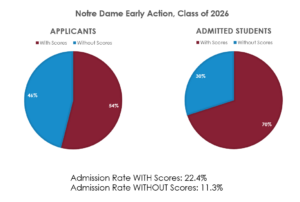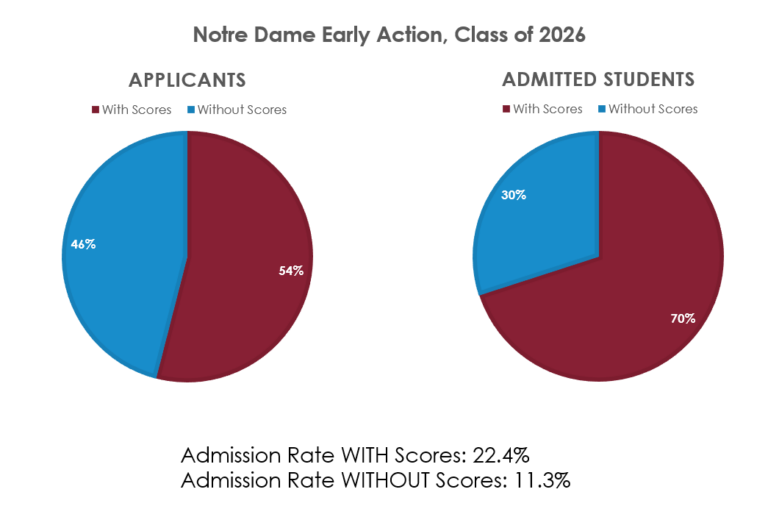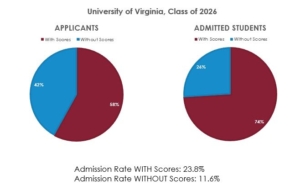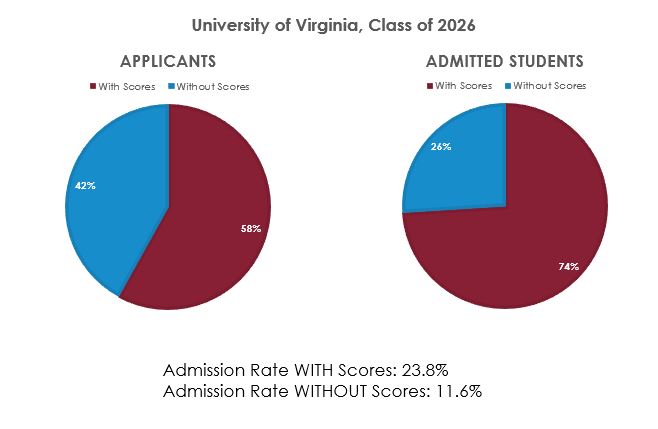 2. Test scores are required for certain scholarships
Many test-optional schools still require test scores for certain merit scholarships. Schools like Clemson University, Howard University and The Ohio State University offer automatic scholarships to admitted students based on ACT or SAT scores. However, Arizona State University, Boston University, Vanderbilt University, and others no longer require ACT and SAT scores for merit scholarships.
3. Taking the ACT/SAT keeps your options open
Your college list can change at any time—and colleges can and do change their test policies unexpectedly. It would be a shame to miss out on a school only because you were not prepared. Having a solid ACT and/or SAT score ready to submit, even if it's not strictly necessary for all the schools you intend to apply to, is the best way to be prepared and keep your college options open.
4. A high test score can help balance a low GPA
Submitting a test score to a test-optional school provides more information about your academic performance and potential. If your GPA is not quite as high as you'd like, a strong test score can help offset this in the admissions process.
At C2 Education, we're passionate about creating personalized academic plans for our students, from test prep to college counseling. Our teachers love helping students reach their goals, so schedule your free consultation today!
https://www.c2educate.com/wp-content/uploads/testevent_back.jpg
1200
1800
jen.vokac
https://www.c2educate.com/wp-content/uploads/c2_logo-1.png
jen.vokac
2022-07-07 12:00:58
2023-03-08 14:48:24
Why You Should Submit Scores to Test-Optional Schools