Effective 2021, SAT Subject Tests are no longer offered by the College Board. To show subject matter expertise, consider taking AP exams instead.
SAT Subject Tests are the lesser-known cousin of the SAT and AP exams. About 2 million students take the SAT each year, and about 2.8 million take AP exams each year, but only about 200,000 take SAT Subject Tests. Keep reading to learn whether you should be one of them.
What Are SAT Subject Tests?
SAT Subject Tests (once known as SAT IIs) are one-hour multiple-choice tests offered in a variety of subjects. They can be used to bolster college applications by demonstrating mastery in certain subject areas.
The Complete List of SAT Subject Tests
The tests are offered in nine core subject areas:
Literature
S. History
World History
Math Level I
Math Level II
Ecological Biology
Molecular Biology
Chemistry
Physics
In addition, there are 12 foreign language subject tests:
French with Listening
French Reading
German with Listening
German Reading
Spanish with Listening
Spanish Reading
Chinese with Listening
Japanese with Listening
Korean with Listening
Modern Hebrew Reading
Italian Reading
Latin Reading
Should I Take SAT Subject Tests?
Whether you should take SAT Subject Tests depends on a lot of factors. There are some students who should absolutely take them:
Students who might want to apply to colleges or programs that require SAT Subject Tests. (Check out our post on SAT Subject Test policies to learn more.)
Homeschooled students—a lot of colleges require that homeschool students submit standardized test scores to support their transcripts.
But even if you're among the majority of students who don't absolutely have to take SAT Subject Tests, most students can benefit from them.
Although few colleges require them, many recommend. Such recommendations should be taken very seriously—if a college recommends something, the admissions officers really prefer to see it.
Even more colleges consider SAT Subject Tests, and if you can score well, these test scores help build your case for academic achievement.
The biggest mistake you can make is to realize at the last minute that you need Subject Test scores. Since colleges change requirements from year to year, and students change college preferences over time, we recommend that you take SAT Subject Tests as you complete the relevant courses. This ensures that you'll have the scores if you need them.

What Is A Good SAT Subject Test Score?
The short answer: depending on the subject, you need to aim for at least 750 out of a possible 800 points.
The long answer: thanks to several factors, percentile rankings vary pretty widely from subject to subject, and the percentile ranking is what tells you how you perform relative to other test-takers. This is the metric that determines what a "good" score is.
Let's look at an example: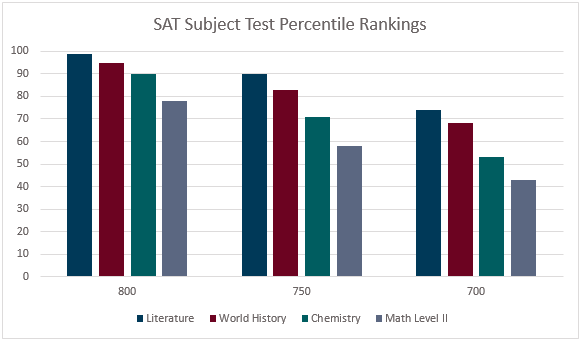 This graph shows the percentile rankings for scores of 800, 750, and 700 for four SAT Subject Tests. Notice that a PERFECT SCORE on Math Level II places you at the 78th percentile, but the same score on Literature places you at the 99th percentile. 22 percent of test-takers earn a perfect score on SAT Math Level II.
Sweet! you think. SAT Math Level II must be really easy!
Not so fast.
These numbers tell us two important facts, but neither of them is that SAT Math Level II is easy:
Anything less than a perfect 800 is not a very good score on SAT Math Level II. After all, a good score is one that places you higher than most other test-takers.
The students who choose to take SAT Math Level II are really good at math, so the grading scale is pretty harsh.
Unlike the SAT, which is taken by a lot of students of widely varying academic abilities, SAT Subject Tests are most often taken by students who feel really confident in their subject mastery—the competition is a lot stiffer.
Which brings us back around to our short answer: depending on the subject, you'll need at least a 750 to earn a good score.
How Many and which SAT Subject Tests Should I Take?
With the exception of Georgetown, which "strongly recommends" 3 SAT Subject Tests, most colleges that have a preference for the tests want to see scores from two tests in two different disciplines.
If you're planning to apply for a STEM program, you'll most likely need SAT Math Level II and a science test of your choosing.
If you're not going into a STEM field, you should choose to take the tests that you feel most confident about—with one exception: don't take the test for a language you speak at home. Colleges are unimpressed (and maybe even a little insulted) when students submit SAT Subject Test scores showing mastery in a language spoken in the home—this doesn't show academic skill or intellectual growth.
How Do I Prepare for SAT Subject Tests?
SAT Subject Tests are entirely multiple choice—there's no essay portion. This automatically makes them easier than some other subject-specific tests (we're looking at you, AP exams). With that said, the stakes are high—for your scores to help your college admissions chances, you'll need as close to a perfect score as possible. Clearly, thorough test prep is necessary.
Start with a practice test. This will give you an idea of your starting point, help familiarize you with the test format, and give you an idea of which concepts you need to review the most thoroughly.
Gather your materials. You can start here with the College Board's Student Guide. When you choose a test prep book, we recommend starting with the ones published by the College Board so that you're getting your practice material straight from the horse's mouth.
Create a plan. Figure out how much time you can reasonably devote to SAT Subject Test prep each week. Pencil your study sessions in on your calendar (or enter them into your calendar app).
Kill two birds with one stone by combining SAT Subject Test prep with AP exam prep. Taking the relevant AP course gives you a strong foundation for success on SAT Subject Tests. Since you'll need to spend weeks (months, really) prepping for the AP exam, which covers the same material but in a different way, you may as well work some SAT Subject Test practice in there. Register for the SAT Subject test in June, just a few weeks after your AP exam, and you'll be ready to rock test day!

What's the Difference Between These Tests and AP Exams?
SAT Subject Tests and AP exams are offered in a lot of the same subject areas, so it makes sense to prepare for them together if you're taking an AP class.
But the tests are far from identical:
| | |
| --- | --- |
| SAT Subject Tests | AP Exams |
| 1 hour | ~3 hours |
| Entirely multiple choice | Multiple choice and free response |
| More fact-based | More analytical |
Although most students find the individual questions on the SAT Subject Tests to be easier than those on AP exams, it's actually easier overall to score well on the AP exams than on the SAT Subject Tests. To earn a good score—meaning a near-perfect score—on an SAT Subject Test, you can usually only afford to miss a small handful of questions. To earn a perfect 5 on an AP exam, you might only need about 70% of the total raw points.
What Should I Do Now?
Here's our SAT Subject Test advice:
When you take an AP class, register for the relevant SAT Subject Test at the end of the school year.
It's better to have scores and not need them than to have to sit for tests you're not truly prepared for at the last minute.
Taking the tests might help your applications, but they won't hurt them—there's really no downside. You can get a free consultation at your local C2 Education center and figure out the best way to approach these tests.
https://www.c2educate.com/wp-content/uploads/students-taking-SAT-subject-tests.jpg
560
840
Al Chan
https://www.c2educate.com/wp-content/uploads/c2_logo-1.png
Al Chan
2019-09-27 09:21:39
2021-05-28 11:53:47
The Complete Guide to SAT Subject Tests