Your challenge, should you choose to accept it (and if you're taking the ACT, you have to accept it): Answer 75 questions in just 45 minutes. The ACT English section is no joke. It's a fast-paced race to the finish, a grammar-error-laden minefield requiring agility and speed, a test of endurance that takes you to the farthest reaches of usage and mechanics.
Okay, really it's a multiple choice test, so it's not that exciting. But it's worth a fourth of your total ACT score, so it is important.
If you're hoping for a top English score, you'll need to prepare to answer every question correctly. In fact, it's incredibly rare to be able to earn a perfect 36 if you miss just one question. Read on for our best ACT English tips.
Know What's Tested
You'll have a better idea of what to work on if you have a good understanding of what's on the test.
The ACT English section is pretty evenly divided between grammar questions and rhetoric questions. Grammar questions test usage and mechanics, and rhetoric questions test broader writing strategy. If you have a good idea of the topics that come up most frequently, you know which topics are likely to have the biggest impact on your score. This table shows you the topics on the ACT English section from most to least frequent.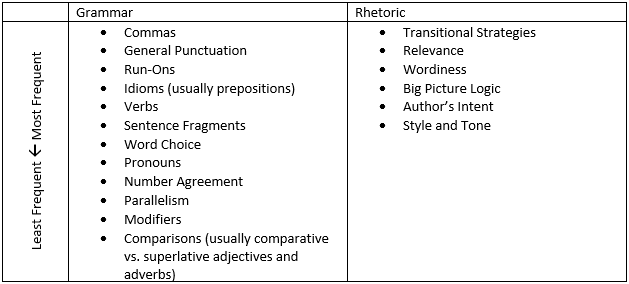 Know Your Weaknesses
Every test-taker has a different set of strengths and weaknesses. On English, your biggest weakness usually falls under the heading of either content or time management.
To figure out how big of an issue time management might be, conduct a little experiment. Take a practice English test with a timer set for 45 minutes. When the timer goes off, finish the rest of the test section without timing yourself, but mark the questions you answer untimed. The question you are trying to answer is whether you are missing questions only because you don't have enough time to get to all of them, because you don't know the answers, or because of some combination of the two.
Once you know where your biggest weaknesses lie, you can take steps to address them. If timing is your biggest weakness, you'll want to work on time management strategies. If content is your biggest weakness, you'll want to identify content areas to focus your study efforts on.
Practice Makes Perfect
Check out our post about the importance of practice tests in ACT prep. One of the best test prep tactics is to complete timed practice sections and practice tests. This helps you work on time management, testing strategies, and content.
Understand Your Mistakes
Your practice won't help much unless you go back and review your mistakes. Even though it's not fun to wallow in your wrong answers, reviewing each missed question will help you avoid future mistakes. Be sure you understand why you got the question wrong and why the correct answer is correct. If you can't figure it out, ask a tutor, friend, or teacher.
Watch the Clock
You know you have 45 minutes to address 5 passages and 75 questions. It helps to break this down into bite-sized pieces so that you aren't too rushed during the final passage—after all, there are probably several questions on that last passage that you can totally get right if you aren't having to rush.
Give yourself 8 minutes for each passage and set of questions. After 8 minutes, move on to the next passage regardless of whether you're finished. At the end, you'll have about 5 minutes left. Use those 5 minutes to go back and answer any questions you skipped or review any questions you weren't sure about.
Go Paragraph by Paragraph
Chop the passage into pieces. Read an entire paragraph, jot down a 2- or 3-word summary of the main idea, and then answer the questions for that paragraph. If you get stuck on a tough question, keep moving and come back to it. Repeat the same process with the next paragraph.
Tackle Big Picture Questions Last
Use the little summaries you wrote defining the main idea or purpose to go back and skim the passage in order to better address any questions that cover the passage as a whole or relationships between paragraphs.
Read Everything Surrounding the Underlined Portion
Don't just read the underlined portion and the answer choices—read the entire sentence containing the underlined portion and the sentences immediately before and after. This context will allow you to get to the right answer. For example, the ACT sometimes slips a pronoun-antecedent agreement error that you would only see if you read the previous sentence, which might contain the antecedent.
Identify the Specific Error
Don't immediately go with the answer that "sounds right"—that can be a good strategy for making an educated guess when you're trying to eliminate answers, but it won't get you to the right answer if that's your go-to strategy. Instead, try to identify the specific error in the question so that you can eliminate answers that don't fix the original error—you'll have a much better chance of getting the right answer than if you go by instinct alone.
If you're new to the test, you can read our Introduction to the ACT here. Visit your local C2 Education center for a free practice ACT and learn how C2's experts can help you maximize your ACT scores.
https://www.c2educate.com/wp-content/uploads/act-english.jpg
560
840
Al Chan
https://www.c2educate.com/wp-content/uploads/c2_logo-1.png
Al Chan
2019-04-02 11:25:38
2022-03-16 10:53:20
Score High with These ACT English Tips