The 2022-2023 college application cycle marks a critical shift towards a new normal in the state of college admissions—and answers the question of whether last year's record-shattering application numbers and admission rates would prove to be a pandemic-related blip or an acceleration of an existing trend.
College Admissions Is More Competitive Than Ever
Applications to the nation's most sought-after schools continued to reach record-high levels in 2022. As a result, admission rates remained at or near record-lows. This trend was true for all top-ranked schools, including both public and private, small, and large.
Applications are up
According to the Common App, the number of first-year applicants this year rose 6 percent over last year, and the total number of applications rose 9%. The rise in applications was driven in part by a continued increase in the number of applications submitted by each student. While the Common App data indicates that applications per student are up 6% since 2019 (from 5.3 applications to 5.6 applications).
Admission rates are down
When application volumes rise, admission rates naturally decline, so it comes as little surprise that those same top-ranked schools that saw new record-high application volumes also saw new record-low admission rates. In fact, of the 2022 top 20 U.S. News and World Report National Universities, 13 reached new record-low admission rates, 3 tied or came very close to tying their old records, and 4 did not release 2022 admissions data.
Such trends extend beyond the Ivy League to include nearly all highly selective schools. The University of Virginia offers an excellent example. The figure below includes application and admission rate data for more than 30 application cycles. This data is reflective of several trends seen across most highly selective schools: here we see the accelerated application growth spurred by the growth of online applications throughout the 2000s, accompanied by the decline in admission rates that logically follows.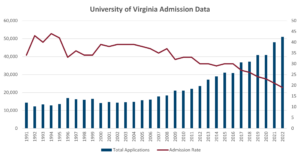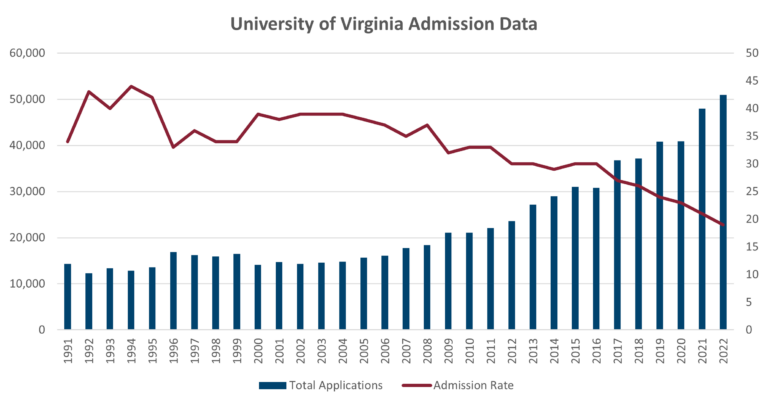 Many wonder whether these record-low rates are merely flukes or a new normal. Examining previous admissions data for individual schools illustrates that these new lows represent an acceleration of existing trends rather than a blip on the radar. It is highly likely that applications to top colleges will continue to climb, with admission rates hovering at or below current record lows.
Applicant Quality Remains Strong
While some hypothesized that applicant quality would be eroded by the proliferation of test optional policies, this prediction did not materialize at selective schools. In fact, even under test optional policies, several schools have posted record-high median test scores, including New York University, Boston College, and Boston University. Colby College, which has been test optional since 2018, set a new record median SAT score of 1500 for the class of 2026. 5% of students admitted to the University of Georgia this year were valedictorians or salutatorians and that number is even higher at University of North Carolina Chapel Hill, where 12% of the incoming class were ranked first or second at their high schools.
Test Scores Continue to Play an Important Role in College Admissions
Although most colleges have extended their pandemic-era test optional policies at least through 2024, the data show that test scores still matter and a key differentiator in the state of college admissions.
SAT®/ACT® requirements are slowly returning
Although Florida was alone in continuing to require SAT or ACT scores throughout the pandemic, other states have now followed suit and are beginning to resume testing requirements, including both Georgia and Tennessee. Several schools have resumed testing requirements or have begun to explicitly encourage the submission of test scores, including MIT and Georgetown.
Schools implicitly encourage test scores
Many selective schools implicitly encourage test scores through the wording of their test optional policies. For example, Harvard's policy is as follows: "Given the wide variation in how students prepare for Harvard – as well as the fact that most applicants and admitted students have outstanding academic records – it is difficult for high school grades to differentiate individual applications…SAT and ACT tests are better predictors of Harvard grades than high school grades, but this can vary greatly for any individual."
Given the extremely low admission rates at these schools and others often targeted by C2's highest performing students, the advice C2 Education has always offered continues to hold true today: If a school says an application component is optional, think of it as required because it is an opportunity to have another positive element in your application. This advice applies just as much to test scores as it does to optional essays, resumes, or interviews.
Submitting test scores boosts admission odds
While the magnitude of the impact of submitting scores varies, all of the schools below show the same overall trend: submitting test scores improves an applicants' odds of admission, in some cases offering more than double the acceptance rate.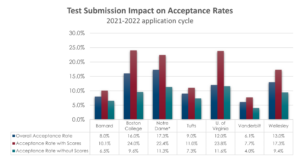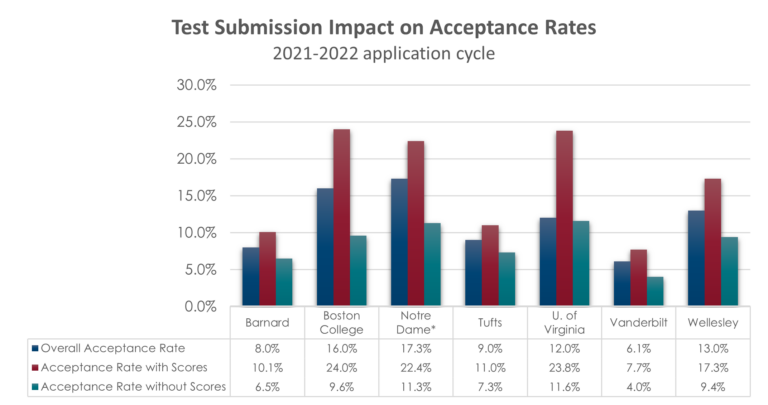 Qualitative Aspects of Applications Play a Significant Role in Admissions Decisions
Particularly at the nation's most selective schools, the qualitative aspects of a student's application are heavily weighted. The National Association of College Admissions Counselors (NACAC) finds that 70% of admissions officers identify a student's character attributes as either "considerably" or "moderately" important in the admissions process.
Selective colleges were much more likely than less selective colleges to rate character attributes as considerably important. After all, highly selective schools have applicant pools made up of high achieving students whose grades and test scores are often similarly impressive. Character traits offer a means of distinguishing among such academically impressive applicants.
Vanderbilt Dean of Admissions Doug Christiansen had this to say of the incoming class of 2026: "They are very academically accomplished in all facets—rigor of curriculum, types of courses they've taken, the grades in those courses, their testing. But I am even more impressed by what they've done in leadership and extracurricular activities, particularly during COVID-19. There are lots of things in our world today that are not very positive, and this class gives me hope. We have great students coming in; they're concerned about the world they live in."
Parental Influence Plays a Greater Role in Students' College Decisions
Surveys indicate that parents are playing a larger role in students' college decisions than they have in the past. This may be a result of pandemic-related factors, including the forced proximity of recent years and concerns over schools' pandemic responses.
Among students surveyed, 48% ranked "parental influence" as one of their top five sources of information on the admissions process, a substantial increase since 2019. Higher-income students, Asian students, and white students reported relying on their parents for guidance at higher rates than other subgroups.
College Costs Remain a Top Concern
Surveys indicate that the cost of college continues to be a concern, and experts indicate that we can expect to see costs continue to rise in coming years. At the same time, gift aid reached an all-time high, and the number of schools implementing "no loan" policies has increased. Cost continues to be a key topic in the state of college admissions.
College costs expected to continue to increase
A college education has never cost more than it does today—but this isn't just because tuition rates have risen at rates far outpacing inflation for decades. The current economic climate has created a convergence of factors that have led to even higher college costs: record-breaking inflation, rising interest rates on student loans, and the market decline's effect on investments that were earmarked for college costs.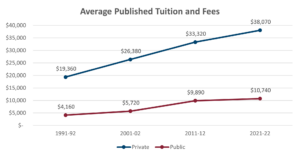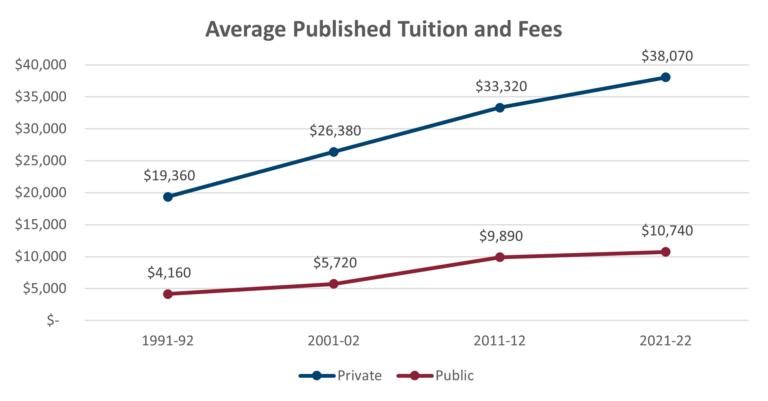 Tuition discount rates are also on the rise
According to the 2021 National Association of College and University Business Officers (NACUBO) Tuition Discounting Student, average institutional tuition discount rates are at an all-time high. Data from 359 private colleges and universities showed an average discount rate of 54.5% for first-time freshmen in 2021-22.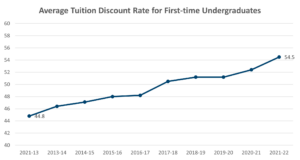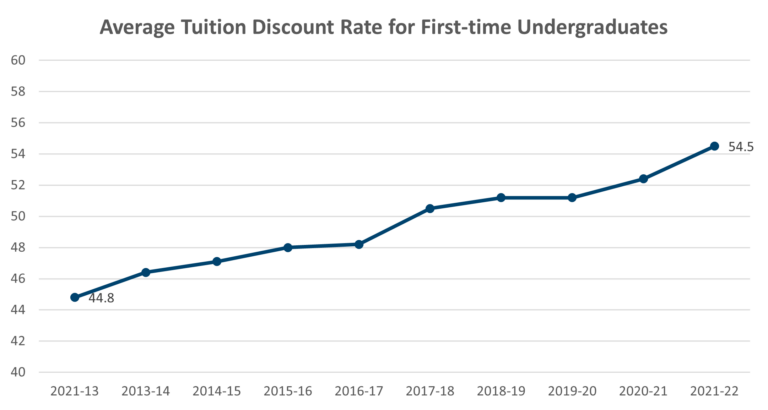 More colleges go loan-free
Amidst the student debt debate, an increasing number of colleges are adopting loan-free financial aid policies. In total, The Chronicle of Higher Education estimates that approximately 75 schools have no-loan policies for either all students or for students meeting certain income thresholds, including Harvard, MIT, Princeton, and Stanford.
Schools that meet full financial need regardless of income are primarily private schools, but Ohio State University recently announced a plan to introduce a debt-free degree program. Should this plan come to fruition, Ohio State would be the first public university to offer no loan financial aid packages to all students regardless of income or residency.
https://www.c2educate.com/wp-content/uploads/State-of-college-admissions.jpg
891
1337
jen.vokac
https://www.c2educate.com/wp-content/uploads/c2_logo-1.png
jen.vokac
2022-11-16 10:32:39
2023-03-08 14:35:28
2022-2023 State of College Admissions