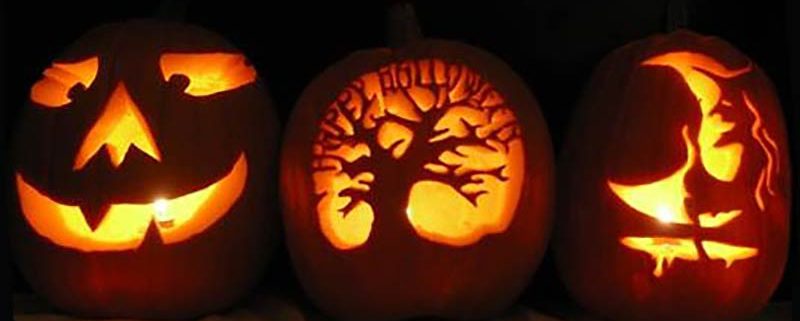 Halloween is now behind us, and the country is littered with soon-to-be-rotting pumpkins. Before you toss your soggy jack-o-lantern in the trash, check out these alternatives:
If your pumpkin has been carved and sat out for more than 24 hours, don't eat it.
But that doesn't mean you have to throw it away.
Compost it: If you compost, toss it in your compost bin. Give it to a gardening neighbor. Or check to see if your town has a community compost heap.

Bury it: If you don't compost, consider burying the pumpkin in your garden. It will decompose quickly and add valuable nutrients to your soil, which will make your plants very happy come spring.

Feed the birds: Break up the pumpkin and toss it in the woods or bushes where birds can easily get to it.

Use it as a Thanksgiving planter: Stick a potted plant in your jack-o-lantern, turn the carved side in to face the wall, and you've got a lovely harvest-themed planter (at least for a week or two).
If you painted instead of carving, the uses of your pumpkin are endless!
Obviously, you could remove and roast the pumpkin seeds – everyone loves roasted pumpkin seeds. But you could also use the flesh of the pumpkin to make pumpkin puree, a valuable ingredient with countless uses.
Why should you eat your old Halloween decorations? Pumpkins are amazingly healthy!
One cup of pumpkin contains more than 200% of the recommended intake of Vitamin A

Pumpkin is high in fiber, which has a host of health-boosting benefits

Pumpkin seeds have plant-based chemicals called phytosterols that reduce bad cholesterol

One cup of pumpkin provides roughly 1/3 of the recommended intake of Vitamin C

Pumpkin is high in protein, zinc, and omega-3 fatty acids, which not only improve bone density but also boost brain function – eat pumpkin, be smarter!
Note: Don't compost or bury painted pumpkins – the paint could be toxic to plants.
Pumpkin puree is a primary ingredient in almost any pumpkin recipe, from breads to pies to soups. Follow these steps to turn a painted pumpkin into pumpkin puree:
Cut the top of the pumpkin as if you were making a jack-o-lantern. Toss the top.

Cut the pumpkin in half from top to bottom. Use a spoon to scoop the raw seeds and pulp from the center – leave as much flesh inside the pumpkin as possible, even if it means leaving some stringy bits behind.

Rinse off the seeds and save them for roasting!

Cut the pieces of pumpkin until quarters. Place pieces on a baking sheet and roast at 250 degrees for 45 minutes or until the pumpkin flesh is tender.

Allow the pieces to cool. At this point, the peel should come right off, but you may need to use a knife to help scrape the flesh from the skin.

Put the cooked pumpkin into a food processor, mash it with a potato masher, process it through a food mill, or run it through a blender.

If the puree seems watery (most jack-o-lantern pumpkins have more water than a pie pumpkin), squeeze off the excess liquid through a fine mesh strainer or cheese cloth.

Storage: Put it in a freezer bag. Freeze it. Easy as pie!
Since pumpkin has so many nutrients, it's a wonderful brain food. Be smarter with C2's favorite pumpkin recipes!
Pumpkin-Cranberry Bread
This recipe can either make 2 loaves of pumpkin bread or roughly 18-24 pumpkin muffins!
Health tips: To make this recipe even healthier, substitute whole wheat flour instead of the all-purpose flour – the bread is so dense that you'll never taste the difference. For added health benefits, add ¼ – ½ cup of milled flax seeds, which contain omega-3 fatty acids and tons of fiber. The use of honey and maple syrup as the primary sweeteners make this recipe healthier than standard pumpkin bread recipes because these sugar products are less processed and have added health benefits. Maple syrup contains several minerals, including iron, calcium, zinc, manganese and potassium. Honey has antibacterial properties and contains vitamins B-6 and C.
Dry Ingredients
3 ¼ cups all-purpose flour
2 tsp. baking soda
1 ½ tsp. salt
1 tsp. ground nutmeg
2 tsp. ground cinnamon
½ tsp. ground ginger
¾ cup dried cranberries (can substitute other dried fruit or nuts)
Wet Ingredients
2/3 cup water
1 cup vegetable or canola oil
4 eggs
1 cup honey
1 cup maple syrup
1 cup brown sugar
2 cups pumpkin puree
Grease and flour 2 loaf pans or 2 muffin tins. Preheat oven to 350 degrees.

Combine all dry ingredients in large bowl. Stir to break up any clumps and to evenly distribute all ingredients.

Combine all wet ingredients in separate bowl. Beat well.

Add wet ingredients to dry ingredients. Stir until well combined.

Pour batter into prepared pans.

Bake approximately 1 hour or until a toothpick inserted in the center comes out clean. (Muffins will bake much faster, depending on the size of the tins used.)
Creamy Pumpkin Soup
Health tips: The onion and garlic in this recipe gives additional health benefits – they have tons of properties that help to prevent disease, infection, and illness. For an added health boost, consider making your own chicken stock; the vegetables and herbs in homemade stock offer greater health benefits than store bought. If calories are a concern, substitute 1% or 2% milk for the whole milk – the resulting soup will be a bit thinner and less creamy.
2 tbsp. olive oil
1 large onion, chopped
4 cloves garlic, chopped
2 cups pumpkin puree
4 cups chicken stock
1 cup whole milk or half and half
1 tbsp. dried thyme
Salt and pepper to taste
Heat the oil in a large saucepan over med-hi heat. Add onion and garlic and sauté about 5 minutes or until tender.

Stir in the pumpkin puree, chicken broth, and thyme. Simmer for 15-20 minutes, stirring occasionally.

Puree soup in blender or food processor until smooth. Return to saucepan.

Add milk. Season to taste. Simmer another 5 minutes before serving.
https://www.c2educate.com/wp-content/uploads/carved-pumpkins.jpg
533
800
C2 Education
https://www.c2educate.com/wp-content/uploads/c2_logo-1.png
C2 Education
2013-11-01 02:14:40
2018-01-29 21:56:55
What to Do With Your Leftover Jack-O-Lanterns