Particularly at the nation's most selective schools, the qualitative traits of a student's application are heavily weighted. Schools identify essays, recommendations, and activities as key metrics in determining a student's character. It's key that applicants understand the importance of qualitative factors in college admissions and the best ways for their application to stand out from the crowd.
NACAC Report on Character and the Admission Process
In a new analysis of survey data from college admissions counselors, the National Association of College Admissions Counselors (NACAC) finds that 70% of admissions officers identify a student's character attributes as either "considerably" or "moderately" important in the admissions process.
Selective colleges were much more likely than less selective colleges to rate character attributes as considerably important. After all, highly selective schools have applicant pools made up of high achieving students whose grades and test scores are often similarly impressive. Character traits offer a means of distinguishing among such academically impressive applicants.
The vast majority of admissions officers identified essays, recommendation letters, and the nature of extracurricular activities as their primary means of identifying and evaluating character traits. About half of participants also identified interviews as a source of information.
Given the proliferation of test optional policies and rising fears regarding grade inflation, such qualitative factors are likely to continue to play a substantial role in admissions decisions. Guidance surrounding extracurricular activities should begin no later than freshman year so that students have ample time to identify and pursue their passions throughout high school. The development of brag sheets and support in identifying ideal recommenders can help students maximize opportunities with regards to teacher recommendation letters. All C2 Education students are encouraged to begin work on college essays with an expert writing tutor during the summer after junior year.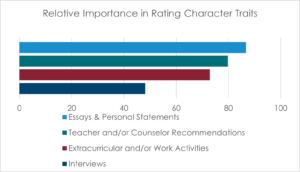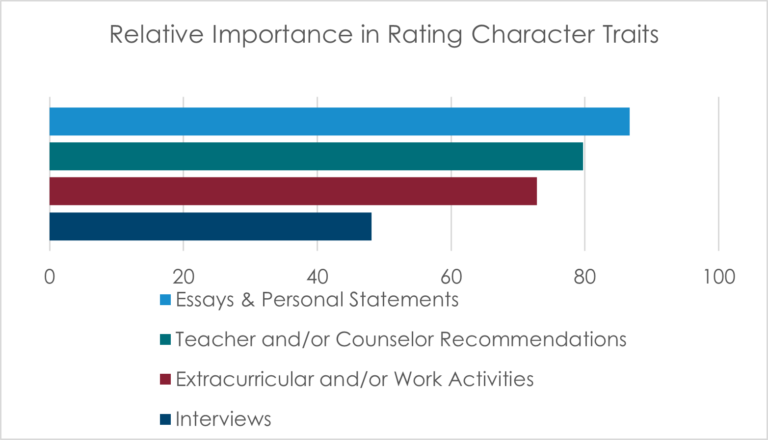 Admissions Officers Cite Qualitative Traits of Their Incoming Classes
The data indicating the importance of qualitative factors in college admisisons is further supported by the statements made by admissions offices about their incoming freshmen. Colleges continue to highlight the experiences and accomplishments of their admitted students, alongside or even ahead of the academic qualifications of their students.
Vanderbilt Dean of Admissions Doug Christiansen had this to say of the incoming class of 2026:
"They are very academically accomplished in all facets—rigor of curriculum, types of courses they've taken, the grades in those courses, their testing. But I am even more impressed by what they've done in leadership and extracurricular activities, particularly during COVID-19. There are lots of things in our world today that are not very positive, and this class gives me hope. We have great students coming in; they're concerned about the world they live in."
Other colleges have highlighted the resilience of their incoming students (Colby College) and the "optimism and joy [students showed] in the face of continued uncertainty" (Brown University), demonstrating that how students weathered COVID-19 remains a significant concern for admissions officers.
Boston University highlighted some of the extraordinary experiences admitted students shared in their applications: one student developed an app to detect Parkinson's disease using facial photographs; another interned on the set of the upcoming Star Wars installment Rogue Squadron; still another decided to combat a local school's high dropout rate by implementing a peer tutoring program.
It's not enough for students to be academically gifted—they must also be encouraged to develop, pursue, and demonstrate their characters.
Learn more about the current state of college admissions here.
https://www.c2educate.com/wp-content/uploads/students-talking-about-extracurricular-activities.jpg
560
840
jen.vokac
https://www.c2educate.com/wp-content/uploads/c2_logo-1.png
jen.vokac
2023-01-16 11:40:16
2023-01-16 11:40:16
The Importance of Qualitative Factors in College Admissions