Surveys indicate that the cost of college continues to be a concern, and experts indicate that we can expect to see costs continue to rise in coming years. At the same time, gift aid reached an all-time high, and the number of schools implementing "no loan" policies has increased.
College Costs Expected to Continue to Rise
A college education has never cost more than it does today—but this isn't just because tuition rates have risen at rates far outpacing inflation for decades. The current economic climate has created a convergence of factors that have led to even higher college costs: record-breaking inflation, rising interest rates on student loans, and the market decline's effect on investments that were earmarked for college costs.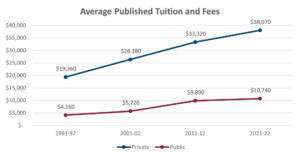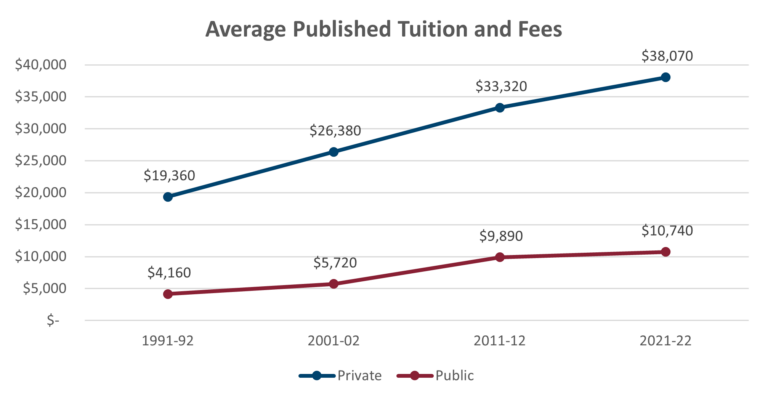 Current high levels of inflation are increasing salaries and housing costs, which is hitting colleges' bottom line. Colleges are also beginning to return to normal following massive expense cuts during the pandemic. This explains, in part, news of coming tuition increases. For example, Boston University recently announced a tuition hike of 4.25%, the "largest increase in 14 years." Boston University is not alone: many universities are increasing tuition by anywhere from 2% to 5% this fall, according to Emily Wadhwani, senior director and lead analyst for colleges and universities at Fitch Ratings.
These tuition increases are likely to occur primarily at private schools. "Interestingly, [state funding is] a current bright spot," Wadhwani said. "Most states had better than expected revenue trajectories through the pandemic and were also the beneficiaries of a significant amount of federal stimulus." In fact, many state university systems introduced tuition freezes and increased funding for higher education.
Tuition Discount Rates Also on the Rise
Though sticker prices are expected to rise, many families may actually see lower net prices. According to the 2021 National Association of College and University Business Officers (NACUBO) Tuition Discounting Student, average institutional tuition discount rates are at an all-time high. Data from 359 private colleges and universities showed an average discount rate of 54.5% for first-time freshmen in 2021-22.
For the first time, the NACUBO study also examined tuition discounts by institution selectivity. The most selective colleges discount their published tuition less than other institutions do. At schools with admission rates of 50% or lower, the median discount rate was just 44.8% compared to the overall average of 54.5%. Selective colleges have less need to offer generous aid packages to attract students.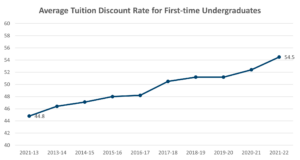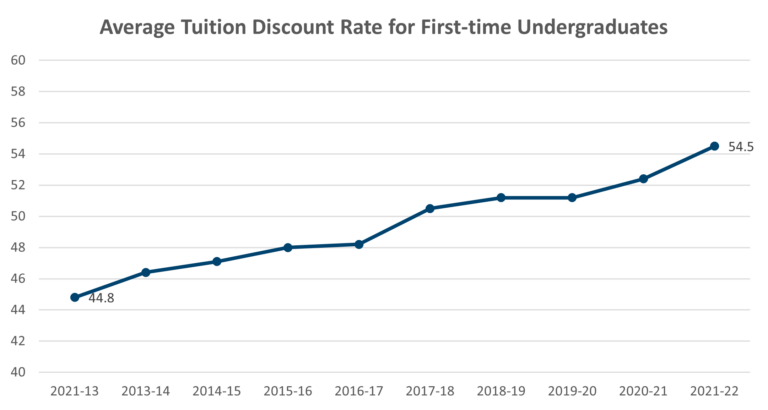 More Colleges Go Loan-Free
Amidst the student debt debate, an increasing number of colleges are adopting loan-free financial aid policies. In total, The Chronicle of Higher Education estimates that approximately 75 schools have no-loan policies for either all students or for students meeting certain income thresholds.
Schools that meet full financial need regardless of income are primarily private schools, but Ohio State University recently announced a plan to introduce a debt-free degree program. Should this plan come to fruition, Ohio State would be the first public university to offer no loan financial aid packages to all students regardless of income or residency.
No-loan programs can be difficult to sustain as they rely on carefully controlled enrollment targets and consistent fundraising.
College Costs Continue to Play a Significant Role in in Students' College Decisions
A pair of student surveys conducted in 2022 paint contradictory pictures of the role of college costs in students' college decisions. Both surveys show that students consider the cost of college to be an important factor in their choice of school, yet both surveys also show that students highly value campus amenities and services.
The first survey, the EAB Freshman Survey, shows that 36% of students cited affordable tuition as one of the top three reasons for their choice of school. In addition, 37% of students who chose not to attend their first-choice school cited expensive tuition as the reason. yet these same students also cited campus experiences, including a beautiful campus and great student facilities, among their top ten reasons for choosing the school where they enrolled.
This is mirrored by a separate 2022 survey of high school seniors conducted by Art & Science Group. This survey found that 55% of respondents had significant concerns about their ability to pay for college. Despite that, a plurality—44%–said that they would prefer to enroll at a more expensive, academically equal school if that school had more amenities and services. Their top choice colleges tilted heavily toward high-amenity schools, with 58% ranked as having a high level of amenities.
Students seek a balance of impressive amenities—the lazy rivers, climbing walls, impressive housing, and free laptops advertised by many colleges—and affordable college costs. Finding that sweet spot is a challenge for college counselors.
Learn more about the current state of college admissions.
https://www.c2educate.com/wp-content/uploads/college-costs-scaled.jpg
1707
2560
jen.vokac
https://www.c2educate.com/wp-content/uploads/c2_logo-1.png
jen.vokac
2023-03-14 16:25:57
2023-03-29 13:17:59
College Costs Remain a Concern for Incoming Students