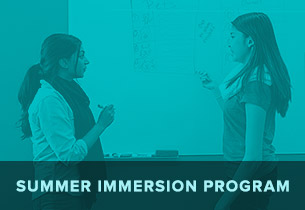 Headline after headline has proclaimed the growth of STEM fields, most notably in the technology sector. As technology continues to develop, grow, and expand, more and more careers will require a background in computer science.
This may be somewhat problematic for females given that women are vastly underrepresented in tech industries. This summer, Business Insider wrote that women hold only 10-20% of tech jobs at the nation's biggest tech companies. This should hardly be surprising given education trends in STEM fields. For example, data from the College Board last year showed that not a single girl took the AP Computer Science exam in three states; nationwide, only 20% of AP Computer Science test-takers were female. This continues into college, where only 18.2% of computer science degrees are awarded to women.
It's worth remembering that this wasn't always the case. The first computer program ever written, a program designed to use Charles Babbage's Analytical Engine to calculate Bernoulli numbers, was written by Lady Ada Lovelace. Women have played an important role in the development of computer science, and they should be afforded the opportunity to play a large role in future developments as well.
To that end, an organization called Girls Who Code has created a summer immersion program for aspiring female computer programmers. The 7-week program places 20 high school juniors and seniors in a technology company or university setting, providing valuable hands-on experience in a wide range of computer related fields. The program is offered in several cities from New York to LA. The program is tuition-free and open to all current female sophomores and juniors.
The application for 2015 will be available soon. To learn more or to register for updates about the application, visit the Girls Who Code website by clicking here.